MGM Macau Eco TrailHiker 2019 Opens Registration on July 11 Celebrating the 10th Anniversary With 2,600 Sports Lovers
Macau, July 10, 2019 – MGM Macau Eco TrailHiker 2019 announced in the press conference today that the event will be held on Saturday, November 2, 2019 at MGM COTAI. The online registration will start at 9am tomorrow, July 11, 2019. The annual Macau TrailHiker event includes 10-km, 20-km and 30-km race categories. Macau TrailHiker was born out of a strong desire to organize a sports event that involved team entries instead of individual entries. The event is committed to promote wellness, teamwork, environmental awareness and contribution to the community.
Mr. Robert J. Kirby, the organizer of Macau TrailHiker, hosted the press conference of MGM Macau Trailhiker 2019 at MGM COTAI today with Guests of Honor including Mr. Grant Bowie, Chief Executive Officer and Executive Director of MGM China Holdings Limited, Ms. Christina Lau, Head of Public Relations Division, Macao Government Tourism Office, Dr. Andrew Leong, Head of Professional Development and Planning Division, Social Welfare Bureau of Macao SAR Government, Mr. Manuel Pires, Chairman of Executive Committee of TDM, and the representatives of the beneficiaries – Major Sara Tam, District Officer of Macau District, The Salvation Army Hong Kong and Macau Command and Mr. Lucas Ribeiro from the Cradle of Hope Association.
TrailHiker takes pride in its contribution to bring the community together for the 10th consecutive year. From a local event with 560 participants in 2010 to 2,700 participants in 2018. The event has accumulated 16,200 participants, an accumulated distance hiked of 270,000 kilometres – equal to 7 times the distance around the world. Coming into its 10th anniversary, TrailHiker promises to bring the event to the next level and promote eco actions within the community.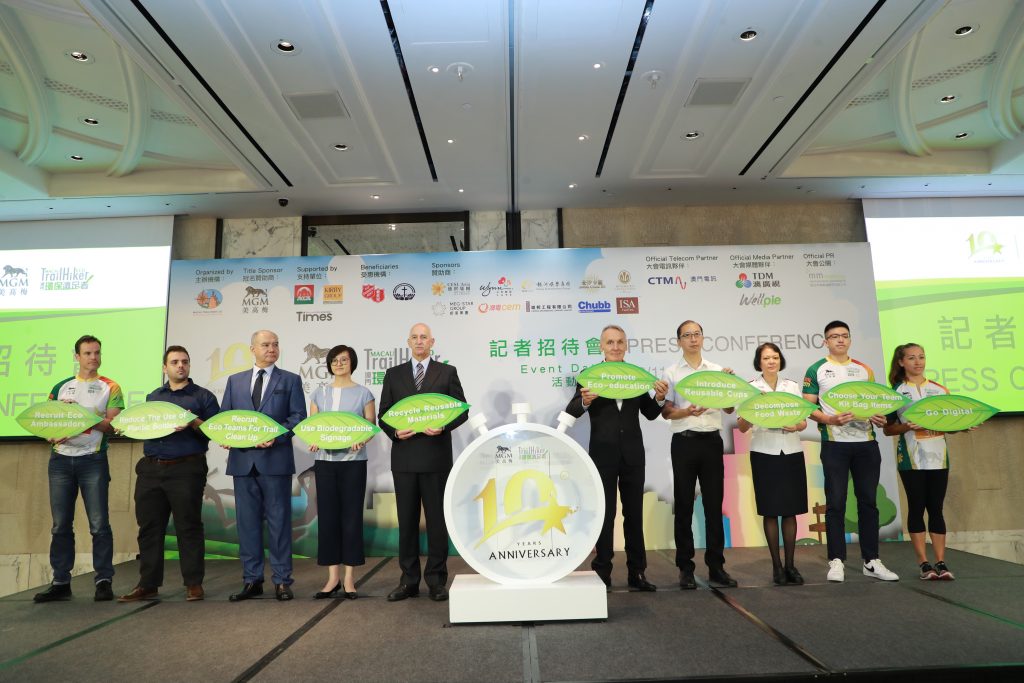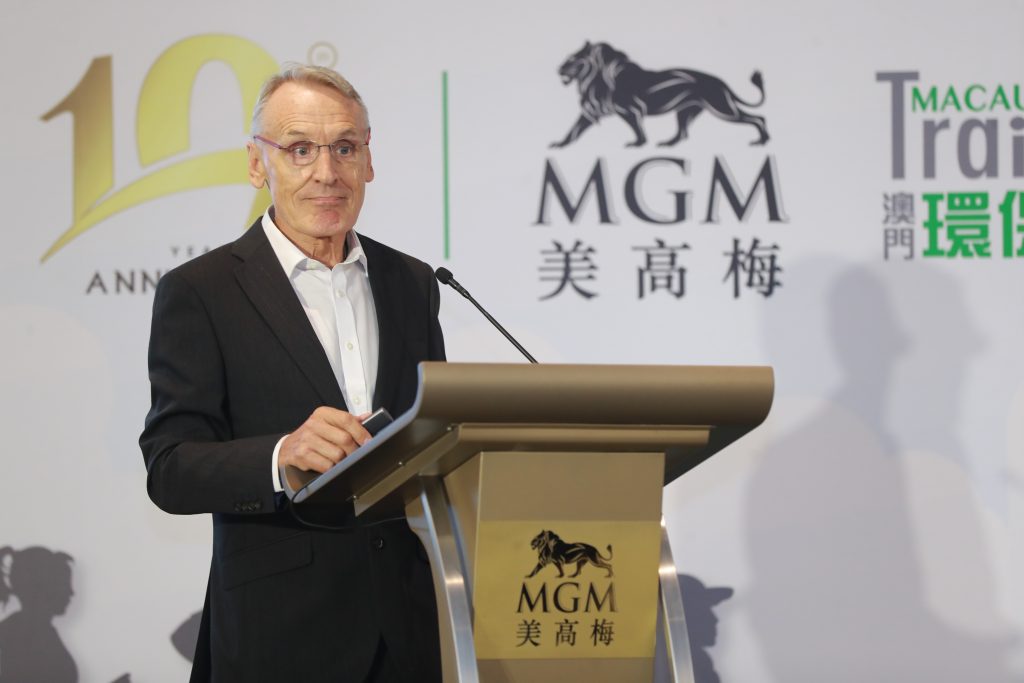 Mr. Robert Kirby, Director of Macau TrailHiker Limited, emphasized the message "Hiking Together, Growing Stronger" during the press conference this year. The event continues to improve in order to be on par with other international sports events. With comprehensive wellness elements and offerings throughout the event, the participants can enjoy the event beyond walking, hiking and running. Wellness Boulevard continues to be a unique platform to gather different local merchants related to health and wellness, bringing a variety of experience and offerings for the participants after the run. Moreover, the event organizers will continue to promote the greener side of Macau and execute 10 Eco Actions with the mindset of "think reusable, not disposable." TrailHiker will also recruit Eco ambassadors publicly and promote the eco actions thereby leveraging different channels to educate the community on how to reduce carbon footprint.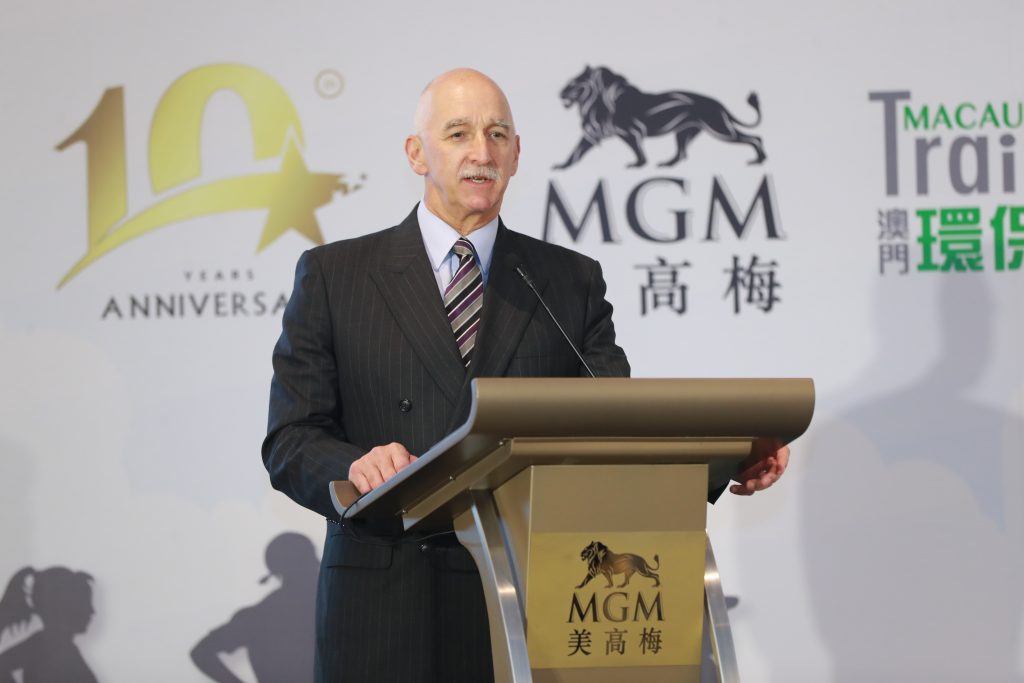 Mr. Grant Bowie said: "MGM fully supports this meaningful and eco-friendly local sports event in Macau. We are proud that MGM COTAI became the venue of the event since last year, bringing a new impression to the participants. We are committed to enhance the overall participation experience, continuing its long-standing position as the most community-spirited sports event in Macau."
Mr. Robert Kirby announces The Salvation Army Hong Kong and Macau Command as a beneficiary

Mr. Robert Kirby announces Cradle of Hope Association as a beneficiary

Major Sara Tam, District Officer of Macau District, talks about The Salvation Army Hong Kong and Macau Command

Mr. Lucas Ribeiro talks about the Cradle of Hope Association
The Macau TrailHiker is also a community-focused and charitable event. It was announced during the press conference that the Salvation Army Hong Kong and Macau Command and the Cradle of Hope Association, are the beneficiary organizations this year. Same as previous years, Macau TrailHiker will be donating all net entry fees to these selected beneficiaries to support their operations in Macau for the daily operational expense and upcoming projects. Both charity organizations will be participating in the event to further spread their message in the community.
Being one of the most prominent sports event in the community, Macau Eco TrailHiker does not only accept registration from the local community, but also welcome participation from neighboring regions including Hong Kong, mainland China, Malaysia and Taiwan.
Registration for the 650 teams will start on July 11 at 9am on a first-come-first-served basis. Interested participants can register at www.macautrailhiker.com. For more information, please visit www.macautrailhiker.com or the event's official Facebook page at www.facebook.com/MacauTrailHiker.
About MGM Macau Eco Trailhiker
MGM Macau Eco Trailhiker was founded in 2010. It has grown rapidly in scale each year and has become one of the major sports events in Macau. From the inaugural event that was held at Hac Sa beach in 2010 with 560 participants, this year aims to receive a total of 2,700 participants for the 2018 event. Over 16,200 participants have joined the event over the past nine years, raising more than MOP 3 million in donations to the local community and charitable organizations.
Media Contact
MM Marketing Communications Consulting Ltd.
Ms. Kate Wong
Tel: 853 – 8797 3920, 6306 6638
Fax: 853 – 2835 5507
Email: kate@mm.com.mo