STARLUX Airlines Marked the Debut of Macao-Taipei Route
STARLUX Airlines Marked the Debut of Macao-Taipei Route on 23rd January 2020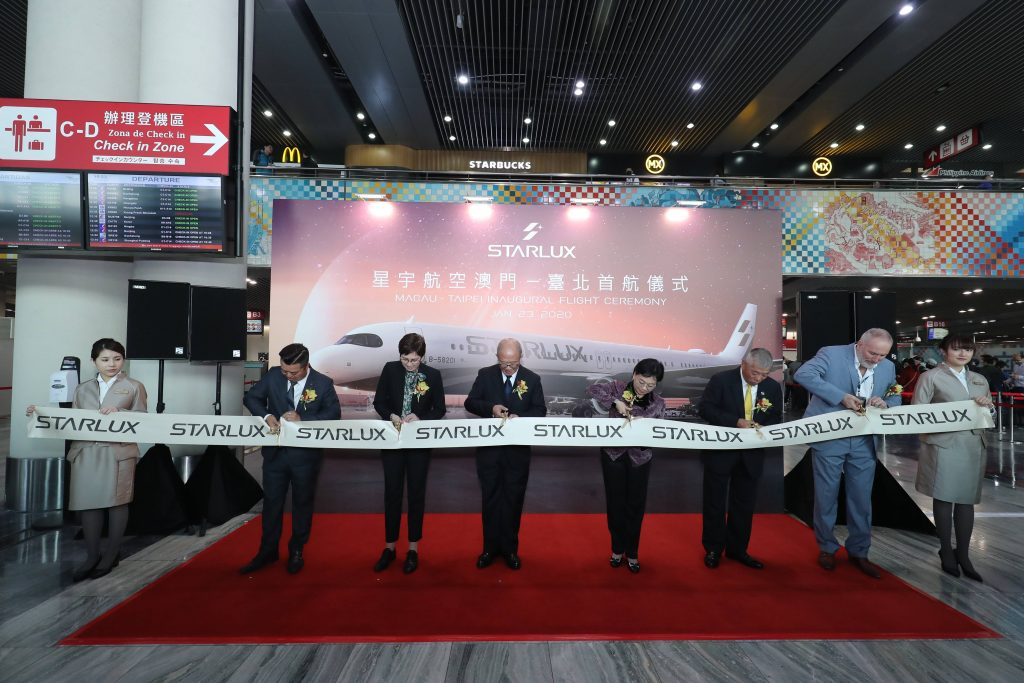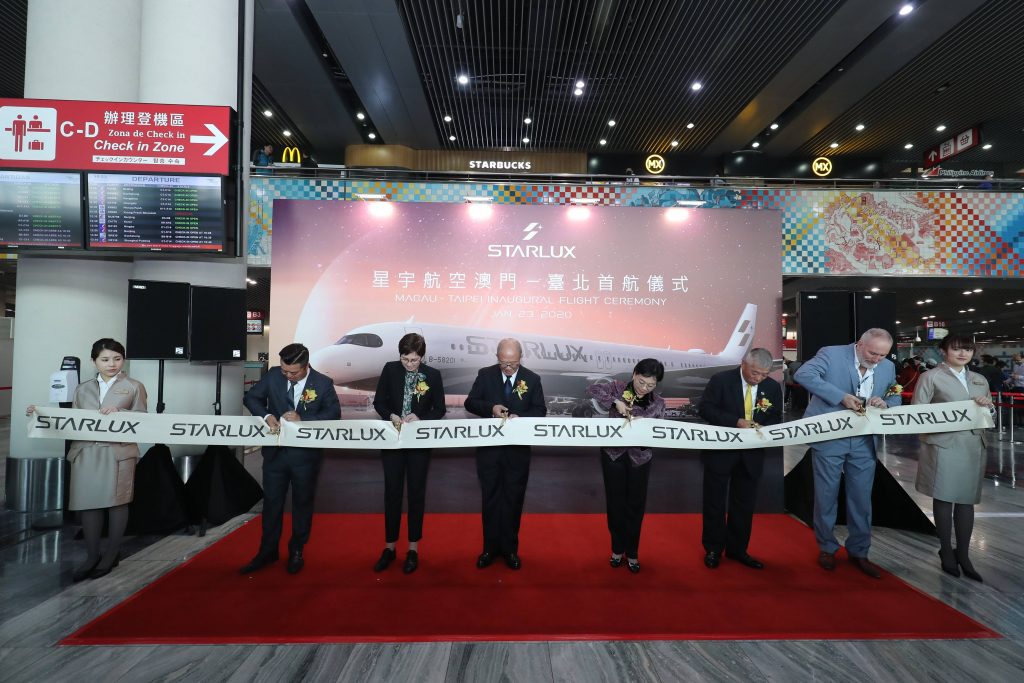 STARLUX Airlines, Taiwan's latest established and high-end airline company, launched its Inauguration Ceremony of the Macao-Taipei Route at 10am in Zone B, Departure Hall of Macau International Airport. Mr. Cho Po-Yue, Special Assistant to the Chairman of STARLUX Airlines and Mr. Steven Feng, General Manager of STARLUX Airlines Macao, together with Ms. Lee Pei Ju, Director General of Taipei Economic and Cultural Office, Mr. Jimmy Lin, Founder of Taiwan Chamber Commerce Macau, Ms. Christina Silva, Director of Air Transport and International Relations, Civil Aviation Authority of Macao SAR, Mr. Eric Fong, Director of Marketing Department, Macau International Airport Co. Ltd. and Mr. Mark Campbell, Managing Director of Menzies Macau Airport Service Limited officiated the Ceremony and unveiled the operation of Macao-Taipei Route. On the same day, STARLUX Chairman K.W. Chang, who is also a certified pilot, will be flying the round trip between Taipei and Macao with the flights JX203 and JX204 in the afternoon to celebrate the inauguration.
"Finally, STARLUX officially launched today and is able to welcome passengers aboard to experience the meticulous service we've been cultivating for almost three years. I would like to give credit to my whole team and all the supervisors, and related departments. As a brand-new carrier, we will fulfill our responsibility to provide safe and high-quality service. At the same time, we will direct every effort to ensure the airline industry in Taiwan to better coordinate with our government and other airlines," said STARLUX Chairman K.W. Chang.
As a passionate certified pilot himself, Chang has taken every opportunity to personally fly the airline's new aircraft. Not only did he fly the first three A321neos back to Taiwan from Hamburg, but he will also be flying the second round trip to Macau and back, flights JX203 and JX204 today.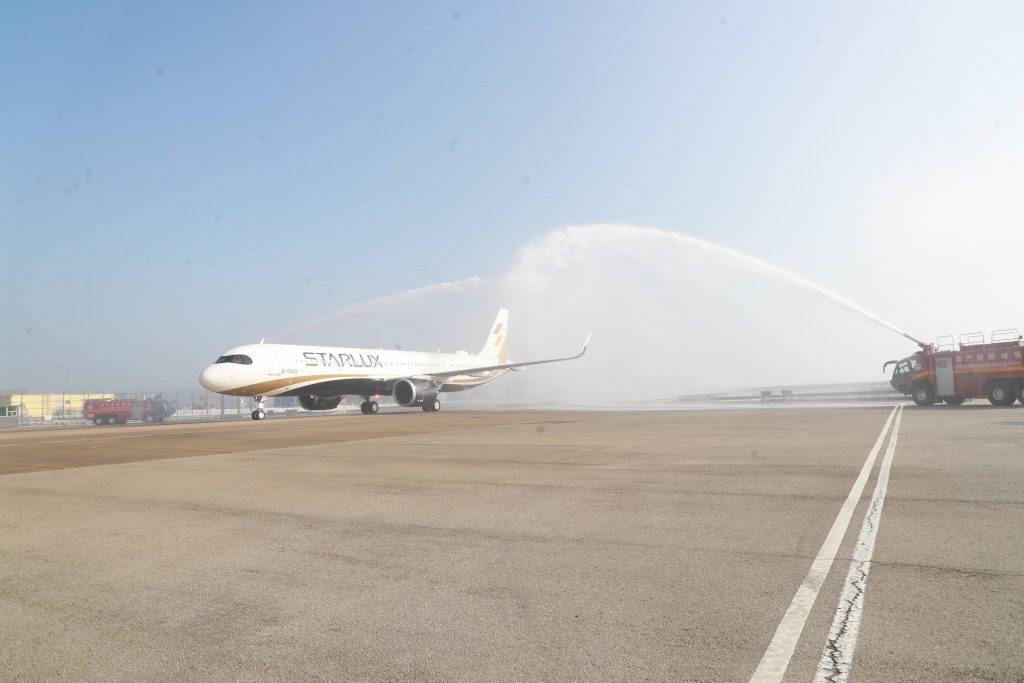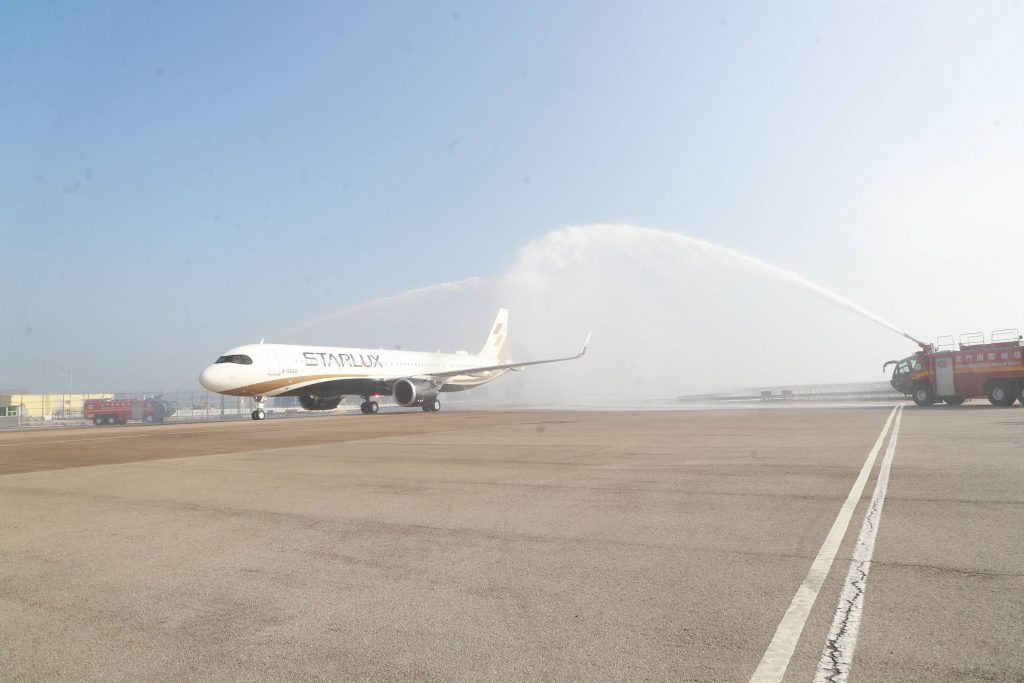 STARLUX Airlines is operating the state-of-the-art Airbus A321neo aircraft on the aforementioned routes. The aircraft has 188 seats, including eight in business class and 180 in economy class. Each seat in the business class is equipped with a 15.6-inch 1080p inflight entertainment system screen and can transform into an 82-inch fully flatbed. Passengers sitting in economy class can stretch out with a generous 31-inches of legroom and enjoy a personal entertainment system featuring a 10.1-inch 720p screen, which is unprecedented on narrow-body aircraft in Taiwan. Moreover, free Wi-Fi service is provided in both classes.
The inflight services have also been exquisitely prepared. From the playful 3D animated inflight safety video, the design and texture of the cabin seats, the exclusive cabin fragrance to the tailormade boarding music by the famous jazz musician Peter White and the inflight meal concocted by Michelin-star chef Lam Ming Kin, STARLUX has prepared a journey of experiences to satisfy all five senses of each passenger.
With its hub at Taiwan Taoyuan International Airport, STARLUX Airlines will initially fly routes in Southeast Asia and Northeast Asia, and gradually developing its trans-oceanic routes to North America starting in 2022, aiming to grow steadily to become one of the world's leading top airlines.
Mr. Cho Po-Yue, Special Assistant to the Chairman of STARLUX Airlines

Passengers of the First Flight from Macao to Taipa
Media Contact
MM Marketing Communications Consulting Ltd.
Ms. Jessica Lei
Phone:853 –6666 3156
Fax  :853 – 2835 5507
Email:jessica@mm.com.mo